Ship Your Car with Confidence - call today: 855-376-5263 in Detroit, Michigan For Sale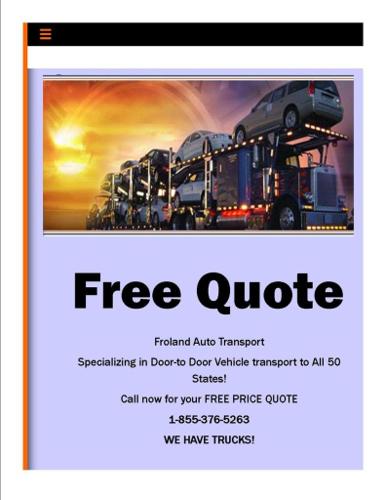 Seller:
Date/Time:04 Dec, 09:46 a.m. EST
Type: Labor/Moving, For Sale - Private.

www.frolandautotransport.com
Call 855-376-xxxx to speak with an agent.
We offer vehicles transport coast to coast, all states in-between and Hawaii.
We can transport: Classic Cars Shipping, Sport Cars Shipping, Boats Shipping, Small and Large Cars Shipping, Motorcycles and more.
Door to Door service with our fully licensed and insured carriers.
To find out how we do it and why dealing with us directly and not a broker service read more in our blog: www.frolandautotransport.com/brokers-vs-carriers.html
car transport, auto transport, auto shipping, truck transport, how to ship a car, how much does it cost to ship a car.

Time: 11:43 a.m. EST
Date: 31 Oct

Price: $99
Time: 06:44 a.m. EST
Date: 31 Oct

Time: 07:48 p.m. EST
Date: 30 Oct

Time: 04:58 p.m. EST
Date: 30 Oct

Need help moving!!
Hey Guys, What's Up! Our New home is ready. & my girlfriend and I are needing 2 strong men to complete the job......
Time: 02:38 a.m. EST
Date: 30 Oct

Price: $99
Time: 04:31 p.m. EST
Date: 29 Oct